---
---
The Frontier Village Shopping Center, located in Prescott, Arizona, is the premiere retail power center for Central Arizona. The Center's roots go back more than two decades when Bill Grace, President of Grace Development approached the Yavapai-Prescott Indian Tribe with a vision that served as the catalyst for Frontier Village.
The Center is ideally situated on State Highway 69 at the very crossroads of Prescott, Prescott Valley and Chino Valley, Arizona. Recent traffic studies indicate with daily counts of approximately 40,000 CPD.
Frontier Village consists of three unique retail phases, each offering Anchor, sub-anchor, inline and end cap positions.
This 680,431 s.f. Power Center hosts eleven restaurant sites/pads, the area's most powerful array of national name brands, an available 28,000 s.f. multi-screen theater (available), two remaining ground lease sites and inline and end cap suite opportunities at better than market rates.
With future parkway access from State Highway 89 planned for summer 2012, the Center will expand its current traffic count, enlarging its visibility.
Rates are the most competitive within the market. We are seeking strong electronics and sporting goods anchors and sub anchors with spaces up to ±110,000 s.f.
Frontier Village hosts one of the largest collections of national brands in the market and is positioned at the crossroads of Prescott Valley and Prescott, Arizona.
After being built, owned and managed by Grace Development the Center was acquired by the Yavapai-Prescott Indian Tribe ("YPIT") in June, 2012.
After acquiring the Center, YPIT's Real Estate and Property Management Department relocated to Suite 114 in Phase II in order to meet tenant and leasing demands.
---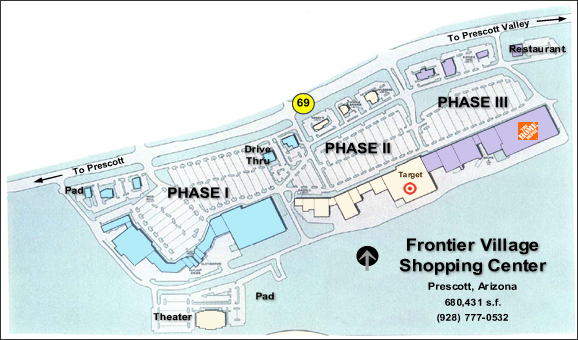 ---
The Center consists of more than 680,000 square feet of retail and specialty suites built in three distinct phases. There are eleven restaurant locations and many national name brands known and trust by consumers.
Like many retail outlets, Frontier Village experienced a decline in occupancy from 2006 to 2012. YPIT is committed to attracting new tenants that will complement the existing businesses that have taken up residence in the Center.
For more information please contact us, email us or, if you prefer you can call the YPIT Real Estate and Property Management Group at (928) 777-0532.